Live-in Guardians invests in grassroots football with Hendon FC sponsorship
30 September 2022
Arthur Duke, Managing Director, Live-in Guardians (right) and Lee Allinson, Manager, Hendon FC (left)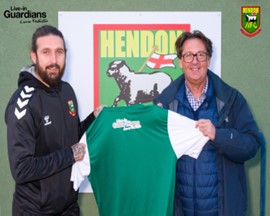 We're delighted to announce that Live-in Guardians, the market leader in vacant property protection is supporting grassroots football through our sponsorship deal with local club Hendon FC.
The deal will see 'The Greens' sporting our Live-in Guardians logo for the 2022/23 season and cements our commitment to engaging with the communities we serve. The club, which is owned and operated by the Hendon Football Club Supporters Trust, is a key community hub and a testament to the power of local community spirit.
Arthur Duke, Managing Director at Live-in Guardians commented, "As a business, we understand the value of working closely with our local community and supporting the causes that matter to them. We're proud to partner with Hendon FC and wish them the best of luck for the season ahead!"
Live-in Guardians is the market leader in vacant property protection providing both substantial savings and peace of mind to property owners, whilst offering affordable accommodation to key workers and young professionals in prime locations.
For more information about securing your vacant property, click here. If you are interested in becoming a Live-in Guardian, click here
Categories